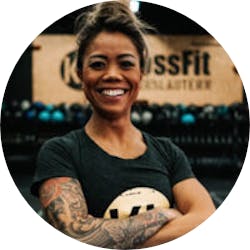 Coach
Camille
Profile: Camille
What's your name?
Camille Galang but most people call me Cam 🙂
Tell us about your first CrossFit experience
I first started CrossFit in 2010 when I was preparing to join the military. I couldn't do the minimum number of push-ups required to join the Air Force so I needed to find a way to get stronger. I tried CrossFit for the first time at an affiliate in my hometown in California, and my first class had a lot of calisthenics and running so I really enjoyed it. I distinctly remember another one of my first classes had back squats and I could barely squat the empty barbell. It took me a few months to embrace the challenges that CrossFit presents, but I loved the variety of movements and workouts and soon was hooked!
Why is CrossFit your go-to sport? What's your background (in life) and have you done other sports before?
I am not a very athletic person…I do not have natural athletic tendencies and didn't play any sports growing up. As a young child I did ballet for several years and did cheerleading in high school so I had basic body awareness, flexibility, balance, and mobility going into CrossFit. It's continued to be my go-to sport for the last 12+ years due to the constant challenge, both mentally and physically. Also, CrossFit also has the absolute best community! From moving around and traveling all the time due to the military, I always know I will have a home wherever I can find a CrossFit gym.
What made you decide to teach CrossFit? What do you love most about coaching?
I first got my L1 in 2012 because I was stationed nearby a gym which was home to a lot of the "OG" CrossFitters that I had been following and fan-girling. I was eager to meet and learn from some of the best athletes and subsequently help others discover untapped potential. CrossFit was still relatively new and emerging at the time, and I loved helping others learn and love the movements and perform them safely and effectively. I got my L2 in 2017 and have coached at several different civilian and military affiliates for the better part of 9 years. What I love most about coaching is helping clients achieve something they never thought they could do!
Do you have any further aspirations within CrossFit?
I would like to get my L3 within the next five years, if not sooner. I am always striving to be stronger and fitter as well as continue to develop myself as an athlete and coach.