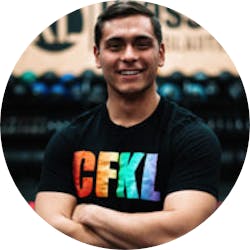 Coach
Chris
Profile: Chris
What's your name?
Chris Adams
Tell us about your first CrossFit experience
My first Crossfit experience was in college! I was over-weight in High School, but I was trying to commission as an Army officer in the ROTC program. I tried different fitness regimes but never found anything I actually enjoyed up to that point. On my first day of college, a few of the upperclassmen in ROTC invited me to workout, so I tagged along! We went to the garage gym that the ROTC program had. We did a CrossFit workout in the, grimy closet gym with only one barbell. Even though the workout kicked my ass (power cleans, running, and rope climbs…. RIP fat Chris). I loved it, I was hooked. From that day forward I went up and trained with those guys every day. That summer I went back to my hometown and joined my first box!
Why is CrossFit your go-to sport? What's your background (in life) and have you done other sports before?
CrossFit is my go to sport because of the amazing community and the constantly varied challenge. I have met so many awesome people through the sport, and fitness-wise it's always evolving! In high school, I wrestled, did track and field, and played football. I am currently an Army officer and have been doing CrossFit for the last 6 years. I also enjoy running and long walks on the beach my significant other(idk, that seemed appropriate there?)!
What made you decide to teach CrossFit? What do you love most about coaching?
The people !! I was a member at CFKL for a year and I realized I love to interact with my community. I am constantly learning more about others, myself and the world with every class. I love getting to the gym for the early morning classes and seeing how motivated everyone is to get after it. The 5 and 6am classes always pump up!!
Do you have any further aspirations within CrossFit?
I would love to own a Gym one day! But for now, I'll settle for starting with my L-2, and learning from the wealth of knowledge we have at CFKL!!