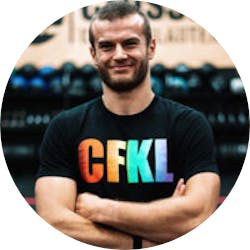 Coach
Damien
Profile: Damien
Tell us about your first CrossFit experience
My first CrossFit workout was about 3 years ago. I saw some videos on IG about CrossFit and I thought that it looked like a lot of fun so I looked on the internet and did a drop in at a box and it was a blast. I remember everybody was cheering each other on and everybody was really helpful and happy to be there. So I was like "yep that's it, I found my new sport".
Why is CrossFit your go-to sport? What's your background (in life) and have you done other sports before?
CrossFit is my go to sport because everyday is different. Everyday is a new challenge and what I like is the community that is here to help you achieve these new challenges.
I have done a lot of sports before. Growing up I was a swimmer, I played some rugby, and I also used to ride motocross and run every other day. I discovered Crossfit one day watching a video of a famous motocrosser that said he was doing CrossFit to prepare himself for the motocross race, so I was like: hum I gotta try that too but I end up only doing CrossFit and not racing.
What made you decide to teach CrossFit? What do you love most about coaching?
I decided to start coaching to help people reach their goals. I love seeing people get their "first" of something. For example when someone gets their first double under you can see the excitement on their face and how happy they are. I feel like it is really awesome to be able to help people get closer to their goals. 
Do you have any further aspirations within CrossFit?
I want to be able to keep coaching people towards their goals for as long as I am able to.