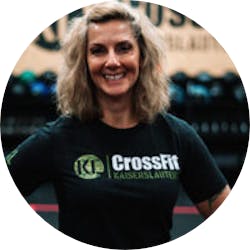 Coach
Darcy
Profile: Darcy
What's your name?
Darcy Sowards
Tell us about your first CrossFit experience
I started CrossFit in summer 2018 when I took the 101 class. My first WOD was the 9/11 WOD that year. After coming to Crossfit for a few months, I started to see changes in my body and I had more energy that I had ever had in my life. I attended more and more classes and fell in love with the Community support.
Why is CrossFit your go-to sport? What's your background (in life) and have you done other sports before?
I have always been an athlete but much of my athletic experience was cardio based. I was a swimmer in high school and college (100 meter backstroke was my event!), then I became a long distance runner and ran numerous short distance races and 13 marathons. When I moved to Germany, the first thing I did was buy a treadmill and everyday I ran 4-6 miles. When the Army announced that they were transitioning to a new ACFT, I got nervous becasue I had never done any of the new movements so I knew I had to get prepared. I get my haircut at Luxe (thanks Kayse!) and I always used to see people coming in and out of the building looking so fit, so I decided to give it a try.
What made you decide to teach CrossFit? What do you love most about coaching?
During COVID when the gym was shut down, I started taking one on one classes with Kristin who showed me how much good coaching could really help in reaching goals (which at the time were to get strict pulls ups and improve my snatch). After things started opening up, I considered taking the Level 1 Coaching class. I am a psychologist and one of my specialties is human performance. I work with US Special Operations (Navy SEALS, Rangers, Green Berets) and I help them to become better Operators using the cognitive interventions. Crossfit Coaching gives me the opportunity to blend 2 things I love, CrossFit and Human Performance!
Do you have any further aspirations within CrossFit?
I want to continue to integrate human performance psychology into coaching to help people work through their mental blocks so they can overcome all of their self-doubts and reach their goals. I plan to take the Level 2 coaching class Fall 2022 in an effort to sharpen my coaching skills.