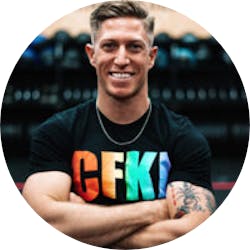 Coach
Devon
Profile: Devon
What's your name?
Devon Willcox
Tell us about your first CrossFit experience
I started CrossFit in 2014. I was working out at a sport performance gym that happened to have CrossFit. As I was working out at the gym, I would watch the CrossFit classes and I found them pretty interesting. But, I could never get the courage to join a class. So one day, the owner of the gym talked me into joining a class, and from that point on I was hooked.
Why is CrossFit your go-to sport? What's your background (in life) and have you done other sports before?
CrossFit is my go-to sport because it benefits me in all aspects of life and is a sport I will be able to enjoy the rest of my life.
What made you decide to teach CrossFit? What do you love most about coaching?
I decided to teach CrossFit because I love to help people improve their performance and overall health. My favorite thing about coaching is seeing the excitement on an athletes face when they achieve a goal they have set for themselves.
Do you have any further aspirations within CrossFit?
One day, I would love to get my CrossFit Level 2 Certification and own my own CrossFit gym.