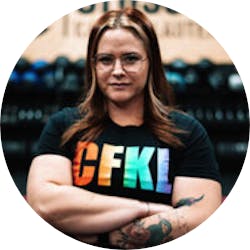 Coach
Gabbi
Profile: Gabbi
What's your name?
Gabrielle Halpin
Tell us about your first CrossFit experience
My first CrossFit experience was at CrossFit 325 in Abilene, Tx. I was 8 weeks postpartum with my second child and was looking for a way to become healthier and more active for the sake of my kids. I was instantly hooked not just on the workout atmosphere but by the community aspect above anything else. It had been years since I had stepped foot in a gym so my nerves were high, but the second I stepped foot in the gym I immediately felt comfortable, like I belonged. No one cared what my fitness level was, no one made me feel less than because my skills and technique were essentially non existent, everyone was supportive and encouraging from day one. I've loved every day of being a part of the CrossFit community since then. I honestly can't imagine life without that first day at CrossFit 325, it most certainly set me on the path that has brought me where I am today.
Why is CrossFit your go-to sport? What's your background (in life) and have you done other sports before?
CrossFit is my go-to sport because I love the group atmosphere. When I first started CrossFit, the class setting made my fitness journey easy. I didn't have to worry about a program or trying to figure out where to start or what to do once I entered the gym. Moving forward, no matter how many years of experience I have, the group setting is still why I love it and stick with it. My sports background is in competitive gymnastics for the most part. Competitive swimming was always a part of my life when my gymnastics schedule would allow until high school when I took up swimming and diving full time. In the world of CrossFit, I am forever thankful that these sports were what my physical foundations were built on!
What made you decide to teach CrossFit? What do you love most about coaching?
Being a member of CFKL is what inspired me to want to become a coach. We have such an amazing, diverse group of members and I found myself as part of the "mom-crew." I realized we are a unique group of people in a gym setting and I felt like I could use my experience not only to encourage and lead other pregnant/postpartum moms but to set an example for all the parents that taking time for your own health and fitness is such an important part of being a parent. In a world that glorifies parents being run down, I wanted to be a part of their day that would uplift and energize them. The thing I love the absolute most about coaching is seeing our members progress and or reach their "Ah-ha" moments. There is honestly nothing better as a coach, in my opinion. Seeing an athlete achieve a new skill or *finally* really feeling what we've been talking about in a specific movement, for the first time, is the absolute best. As much as I want to be an uplifting part of their day, these moments are some of the best parts of my day!
Do you have any further aspirations within CrossFit?
I always strive to progress in my fitness journey in one way or another, it's something that's ever changing depending on the season. As far as "working" in the world of CrossFit, I'm looking forward to being in a position where I could potentially choose to coach full time, it's definitely something I could foresee in my near future. In recent years I've really found my passion to be deeply rooted in the world of coaching/teaching. I started coaching as a secondary job to my full time career, but as my experience grows, so does my desire to be in the gym full time!