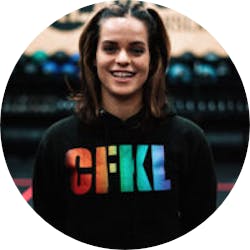 Coach
Kristin
Profile: Kristin
What's your name?
Kristin Sara
Tell us about your first CrossFit experience
Found CrossFit through bodybuilding but fell in love with CrossFit and made the switch almost immediately! Haven't looked back since and that was 2015!
Why is CrossFit your go-to sport? What's your background (in life) and have you done other sports before?
I grew up playing tennis and soccer all the way through Highschool and then was just a regular globe gym goer in college. When I moved to CrossFit I was amazed at the variety and how each day was completely different and always fun! Nothing pushes you more than having a community and Coach supporting (and sometimes suffering) with you! You progress physically and me tally and no other sport has had the same affect for me!
What made you decide to teach CrossFit? What do you love most about coaching?
I knew when I started CrossFit that I wanted to be a bigger part of it. I wanted other people to experience the fun and excitement of the classes and build confidence both in and out of the gym so I knew I wanted to coach! It is so rewarding watching people achieve things they didn't know they were capable of, even things as simple as stepping up on to a box unassisted.
Do you have any further aspirations within CrossFit?
Lot's of aspirations but we will just have to see what the future holds!