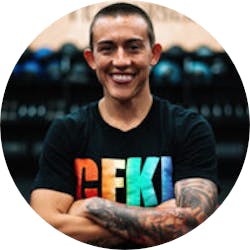 Coach
Madison
Profile: Madison
What's your name?
Madison Alicea
Tell us about your first CrossFit experience
I first started CrossFit when I was deployed in Saudi Arabia
Why is CrossFit your go-to sport? What's your background (in life) and have you done other sports before?
I have played soccer since I was 4. In high school I played lacrosse and ran cross country. I love sports and being active.
What made you decide to teach CrossFit? What do you love most about coaching?
I have such a great love for CrossFit and in general, fitness. Being able to teach people on their journey to fitness has been more rewarding than I ever thought. The thing I love most about coaching CrossFit is being able to see my CrossFit family everyday and watch our athletes improve over each class.
Do you have any further aspirations within CrossFit?
I don't see myself going further with CrossFit other than coaching and potentially getting my level 2. My "job job" is physically and mentally demanding, so I do not see further aspirations at this time. I am always open to more opportunities if one did present itself. I am going to stick with CrossFit to maintain my health and longevity.