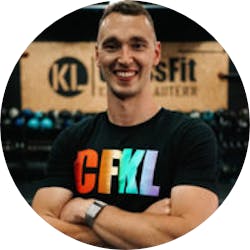 Coach
Max
Profile: Max
What's your name?
Max Stutzinger
Tell us about your first CrossFit experience
I started my CrossFit journey in the 101 Course at CFKL. I was super excited and also super nervous. I still have the pictures from my first day in the gym in my mind.
Why is CrossFit your go-to sport? What's your background (in life) and have you done other sports before?
Before I started CrossFit, I competed in the Firefighter Combat Challenge, aka "Toughest Two Minutes in Sports". However the sport of CrossFit took me on the next level and helped me to be a well-rounded firefighter. So CrossFit is my "go-to sport", because it prepares me for all the known and the unknown on my job.
What made you decide to teach CrossFit? What do you love most about coaching?
The community…! It's a privilege to help people getting better day by day!
Do you have any further aspirations within CrossFit?
First, share the positive aspects of CrossFit in the world of firefighting and then maybe some day ..World Police and Fire Games ?!…. 🙂