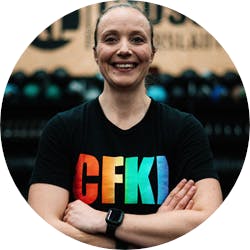 Coach
Nina
Profile: Nina
What's your name?
Nina Falkenhagen
Tell us about your first CrossFit experience
Open workout 13.3 – no word's needed
Why is CrossFit your go-to sport? What's your background (in life) and have you done other sports before?
For me CrossFit is more than just going to the gym and move a little. I started because in my former Globo Gym they told me I can only do CrossFit when I'm really fit. Uhm? Sorry? I was going there for 1,5 years and they were telling me basically that I'm not fit. I joined a CrossFit gym 2 weeks later. First of all CrossFit is Scalable for all Fitness levels, no matter what. You always learn new things and there's no boringness, because it's never the same. The strength and skills you Achieve transfer to daily actions such as lifting 26kg packages of dog food out of my car and carry it to the freezer. And resilience. That's What you learn going through hard workouts. No matter what just head down, work hard, do what it's needed and make yourself proud.
What made you decide to teach CrossFit? What do you love most about coaching?
I want to improve and learn new things. And I just love coaching. I love to see people improve themselves, all the changes they make after joining the gym.
Do you have any further aspirations within CrossFit?
I want to get my L3 certificate.