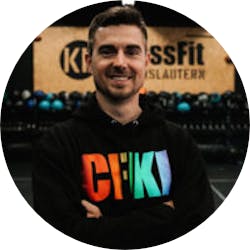 Coach
Vaughn
Profile: Vaughn
What's your name?
Vaughn Franklin
Tell us about your first CrossFit experience
While attending Virginia Tech in 2010 I was introduced to CrossFit by some military friends also training to do do something special and I fell in love with the friendly competition, the constant physical and mental challenge, and the community that became like a second family to me. In 2014 after college I started coaching which has been my semi-full-time job since. I got some sweet certs, did a bunch of competitions, and then unfortunately tore my right shoulder labrum which I'm still working through… but that's what I love about CF; it's infinitely scalable so there's always something I can do!
Why is CrossFit your go-to sport? What's your background (in life) and have you done other sports before?
CrossFit is my go-to because it challenges me to grow everyday. CrossFit to me is the perfect blend of physical and mental challenge that force us outside of our comfort zone of what we are "good at." I come from a competitive Track and Field and Swimming background, and even some marathons including Boston in 2013, and lots of training for Air Force spec ops… so basically endurance and grind, but then CF forced me to improve myself in other areas with strength and gymnastics, but also in my mobility… and true, well-rounded fitness.
What made you decide to teach CrossFit? What do you love most about coaching?
Nothing gives me more purpose in life and energizes each day more than coaching! Looking back at the end of the day feeling like I was able to positively impact someone's life makes me so happy! Seeing someone overcome obstacles and helping them in the process is a true privilege.
Do you have any further aspirations within CrossFit?
One day I hope to be an old crusty coach with decades of experience who inspires other people to find their true potential through my own fitness and coaching 🙂